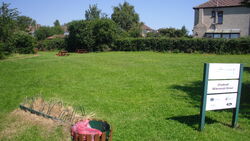 Chadwell is a small Green in Romford on the north-eastern edge of London. This urban Green is tucked away more or less out of sight to most people, behind a square of houses, created on land that was once allotments. The green is not very "open and evident", but as it has a large, well-equipped park nearby, the Millennium Green serves mainly as a quiet haven for wildlife and relaxing people.
The land had been allotments.
Millennium Feature
Edit
The feature is a circular mosaic designed by the children of the local primary school of St. Chad.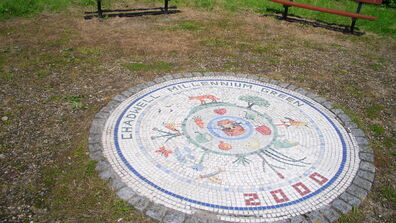 The mosaic is set into the ground in a circle of seats near the entrance to the Green. As of 2012, the mosaic is in good condition with little wear or damage except the white border.
.
Other Features
Edit
Wetland Area
Edit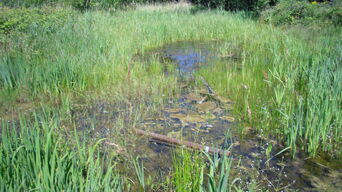 There is a small wetland area, which has a few inches of water in winter and may more or less dry out in summer. A boardwalk bridge arches round and over the wetland with a balustrade on one side. The soil from digging out the wetland was used to create a mound adding a little change in height to the otherwise flat land of the Green.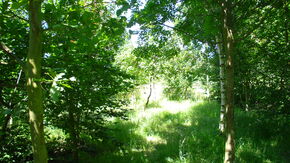 The Green is quite wooded, with a mix of different trees, including a number of native species.
A small orchard is tucked in the corner furthest from the entrance.
The land is well supplied with seats, although none are really in the shade.

.
A number of events have taken place on the Green. A party was held for the Golden Jubilee in 2012.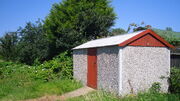 External Links
Edit
SE & London Millennium Greens booklet