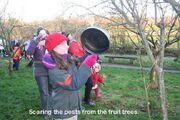 Fairfield
Millennium Green is in Fairfield, Lancaster, Lancashire. The full title of the Green is Fairfield Millennium Green and Community Orchard. The site is
2.2 acres
and is largely an apple orchard. The Green is part of a project to create community land covering 43 acres around Fairfield.
At the end of Sunnyside Lane in Lancaster, southwest of the train station and castle: http://goo.gl/maps/DTSyP
History of the Green
Edit
In 2008 the Millennium Green Trust merged with the Fairfield Association, so that this charity now administers the Trust for the Green. The Fairfield Association have created nature reserves next to the Millennium Green and run the Green as part of this big project.
Millennium Feature
Edit
An annual Wassailing is conducted around the Millennium Oak.
History of the Fairfield Association
Edit
We started off saving a local playground in the late 1990s. (http://www.fairfieldassociation.org/community/fairfieldgreen.html)
Planted a community orchard for the millennium. (http://www.fairfieldassociation.org/orchard/)
Opened up a 16 acre nature reserve in 2012. (http://www.fairfieldassociation.org/fauna/)
And are now embarked upon a campaign to expand FAUNA with a purchase of 26 acres of adjacent land with our new FLORA project. (http://florafields.org/)
Nature & Wildlife
Edit
http://www.fairfieldassociation.org/fauna/
Fairfield Association run a range of events each year. This includes a number on the Millennium Green:
Mid-January: Wassailing on the Saturday nearest to Old Twelfth Night
Easter Monday: Easter Egg Hunt
May: Go Wild Week (a week of events in the evenings)
September: Teddy Bears' Picnic
October: Apple Day
Fundraising & Sponsorship
Edit
Nearest Millennium Greens
Edit
External Links
Edit