Frome Millennium Green is in Frome in Somerset.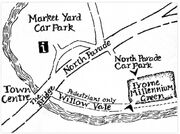 History of the Green
Edit
The Green was set up in 2000 in an undeveloped area near to Frome Town Centre.
Millennium Feature
Edit
Carved timber benches and stonework, the photo is of a memorial to Christina Rossetti, the Pre-raphealite poet, once a Frome residentand quotes a tiny piece of her work.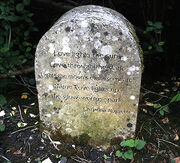 Other Features
Edit
Close to Rodden Meadows and River Frome, working with F.R.O.G.S., who are looking after the riverside
Nature & Wildlife
Edit
The Green is intended to be quite wild, with many plants and animals
A variety of birds can be seen including Robin, Long Tailed Tits, Green Woodpecker, Tree Creepers, Chiff Chaff. Pipistrelle and Daubenton bats are among the twelve species that can be seen in summer within a five mile radius.
Wild flowers include Cow Parsley, Wild Teasel, Cranesbill, Ground Ivy, Lesser Celandine. Butterflies include Brimstone, Speckled Wood, Meadow Brown. Apple Trees were planted in the Orchard and various trees and shrubs have been planted, including part of a national Guinness Book of Records tree planting event.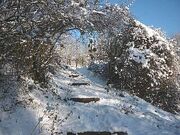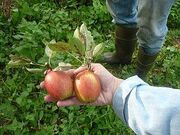 Not that great this year, but there will be the Wassail again next year, an English tradition, in hopes of a better crop. In the Autumn there is normally an Apple Day, when all and sundry fill their caps and bags
Fundraising and Sponsorship
Edit
There has been funding from Frome Town Council and Frome Lottery
Forage & Feast was a wild food walk with a local expert, afterward cooking up Hawthorn Chutney and feasting on foraged goodies
Awards/Recognition
Edit
Nearest Millennium Greens
Edit
External Links
Edit