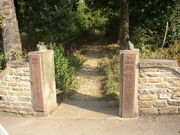 Kayes
Millennium Green is in the Village of Clayton West, in Denby Dale, Kirklees, West Yorkshire. It was one of the original 25 pilot Greens. It is a fairly large Green, 4.2 Hectares of farmland including a number of mature trees.
Location
Edit
Off the High Street in Clayton West.
History of the Green
Edit
The land for the green was donated by the Bradbury brothers who were the direct descendants of John Kaye who, in turn, inherited the big house known as The Park in 1896.
Millennium Feature
Edit
Other Features
Edit
Nature & Wildlife
Edit
The opening event included a picnic for many local children and the 10th anniversary also had a picnic for 170 children.
Nearest Millennium Greens
Edit
External Links
Edit