Alexandra Millennium Green in Surbiton, Surrey, is one of the larger Greens and if you count it as a London Green, it is bigger than all the other London Greens put together.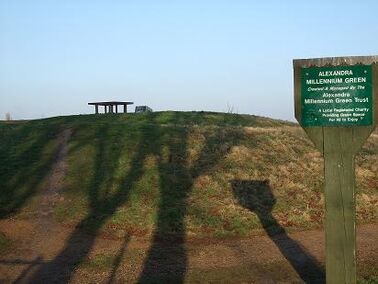 Alexandra Dr, Surbiton, Greater London KT5 9AG.
One source says its 10 acres, another 12, but the Trust confirms it is 12 acres.
History of the Green
Edit
It was part of Tolworth Main Allotments which Kingston Council planned to sell for development in 1990 (PS68). After much public opposition, and a planning enquiry the plans were rejected. Local people formed the Alexandra Millennium Green Trust (a registered charity) and went on to create the green, which is London's largest.
Millennium Feature
Edit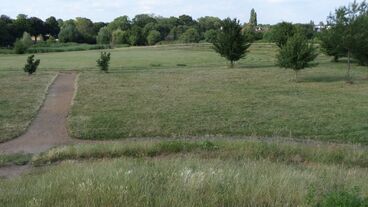 In the landscaped and contoured area of grassland There is a very large amphitheatre suitable for concerts.
Other Features
Edit
Over 183 young trees were planted during construction with more having been added since. Not all have survived with a number having been damaged by fighting type dogs.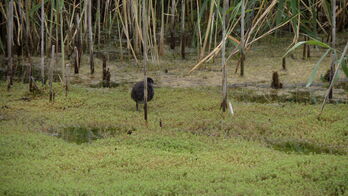 It also has a large pond.
Nature & Wildlife
Edit
There are many types of wildflowers to be found, and the pond which has become overgrown, is a haven for many creatures- ducks, occasionally swans, and moorhens just to name a few.
Many events have taken place on the Green, but there are none presently planned, as of July 2014.
The Green is managed by 'The Alexandra Millennium Green Trust' a Charity which has very little regular income. Unless this can be addressed, it will close. You can become a 'friend of the Green' for as little as £10 a year and we presently have around 30 members. If we had 300, the Green would be secure for the remainder of our lease - about 970 years! If we fail, it will have to close and revert to the local authority.
Alexandra has won a local award- The Kingston in Bloom Mary Rollinson Community Award.
Nearest Millennium Greens
Edit
External Links
Edit