Waterloo is a small, urban Green in central London.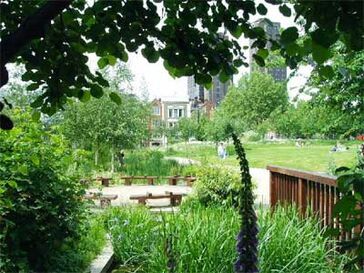 It is possibly the smallest, at under an acre. It was originally created in conjunction with other local community projects, which had professional staff. Waterloo is one of the most urban Greens in the portfolio and despite its small size has a very large footfall.
History of the Green
Edit
The land had previously been a car park, then an open space for some years before the creation of the Millennium Green. The Green was created as part of a larger project, connected with an adjacent site. It is now looked after by a group called Bankside Open Spaces Trust, who look after a number of local green areas.
Millennium Feature
Edit
Waterloo has a water feature in the form of an artificial stream with the bridge over it. The Trust have found it difficult to keep this feature working; it has required attention numerous times over the years, but a major renewal project has got it all going and as of 2017 it was working well
Other Features
Edit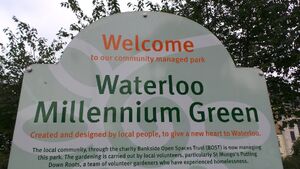 The Green has three carved wooden seats.
Nature & Wildlife
Edit
Facilities
Edit
Food is served on site regularly and there is a pub right next to the Green.
Waterloo has been host to a number of events. The 2014 London Millennium Green Meeting was hosted at Waterloo.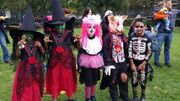 Fundraising & Sponsorship
Edit
The local council have supported Waterloo with section 106 money- a grant of £75,000 was made in 2012 to repair their water feature. They have had income from a hot food stall on the Green for some years.
Nearest Millennium Greens
Edit
External Links
Edit